Jack lock allen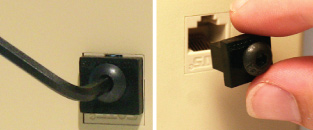 Video Instructions on Installation
Jack Lock uses
RJLOCKDOWN'S JACK LOCKS
RJ 45 Jack Locks can give you the extra physical security that you need. Our customers use our jack locks in a variety of locations.
For example blocking unused ports on a switch to prvent unauthorized access.
Companies also use our RJ45 Jack Lock to prevent damage of an upgrade port on a wide range of devices.
POS customers use this device to add security to their network and help prevent tampering with credit card machines. (PCI COMPLIANT)
Schools
Retail POS (PCI COMPLIANT)
Government
Unused ports on a switch
RJ45 Ports not used for ethernet (Flash Port)
Conference Rooms